[
finding
]
MY OWN VOICE
-a never ending process
Illustrations created during the course "La voz propia" 2021 (my own voice) run by illustrator Javier Zabala. 
An artistic life changing event in my life.
Read more below
You can read here some of  the writing I did during the course. First introducing myself and further below talking about my influences and "maestros".

Introducing myself
-written for "La voz propia" 2021 (my own voice) run by illustrator Javier Zabala.
My name is Elena. I studied architecture in Barcelona and for years I worked as an architect until I had my children and rediscovered my fascination for children's books. I started creating two books that I tried to publish without success. With the illustrations I made I created prints that I started selling on Etsy. From there I got a lot of private illustration commissions. I also started to develop my work as a painter.
I currently live in London and work as an illustrator and painter. At the moment I am working on illustrations for a children's book and a graphic novel which is my own project. I love books and therefore as an artist illustration is my great passion. I'm at the moment trying to develop my work in a more experimental line.
Drawing is for me always a fresh start. Each new project is a new adventure. I like to try what I haven't done before. With commissions I always feel a bit constrained and what I enjoy most is the more experimental work in my sketchbooks.
My preferred mediums are watercolour and ink. I like working with the unpredictable and I like the luminosity you get with them.
My influences and teachers:
PAUL KLEE and SONIA DELAUNAY
- shapes, colours and lines
When I started as a visual artist around 2010, there were two exhibitions at the Tate in London that had a great influence on me. One was by Paul Klee and the other by Sonia Delaunay. I learned a lot from both of them. In Klee's you could even see the exercises he used to give his students at the Bauhaus. It was marvellous. 
Besides, having studied architecture in Barcelona in the 80s, where the Bauhaus and the avant-garde were the bible - although post-modernism was in full swing, Barcelona was still more "modern" than ever - my first encounter with art was modern, abstract, that of the avant-garde.
The influence of these two artists is especially noticeable in my paintings. I like to work with watercolour by superimposing layers. I like the mix of unexpected colours that Sonia was an expert at and playing with geometric compositions. Paul Klee also worked with line in a very delicate and at the same time naïve way as children do (which we artists always want to be like). They are like my grandparents, they are at the base of everything.
MATISSE and DAVID HOCKNEY
-celebration of life.
Then come two great colourists, celebrators of life and everything beautiful in it, Matisse and David Hockney. I have also studied them a lot. Like them, I tend to reflect the more joyful aspects of life. 
QUENTIN BLAKE, TONI ROSS
and many more - the English School
When I raised my children in London, where I live, the books I read to them were often classics of English children's literature and I became quite familiar with the English school. Quentin Blake is my great teacher in the field of illustration for children. Like him I work a lot with black ink line and watercolour. The energy of his drawings, his use of colour so emotive, the carefree nature of his characters, are all aspects that I have admired and tried to obtain in my drawings. 
DANIEL EGNEUS
and fashion illustration
Through Instagram and social networks I've come across many fashion illustrators, a field of illustration I didn't know much about. I love Daniel's combination of perfect drawing with total abstract shapes and lines. 
ANTHONY GROMLEY and JAVIER ZABABLA
-the human body and the silhouette
The silhouette is a constant in my work. I have explored it a lot and I still want to explore it more. My two great masters of the silhouette are Anthony Gromley and Javier Zabala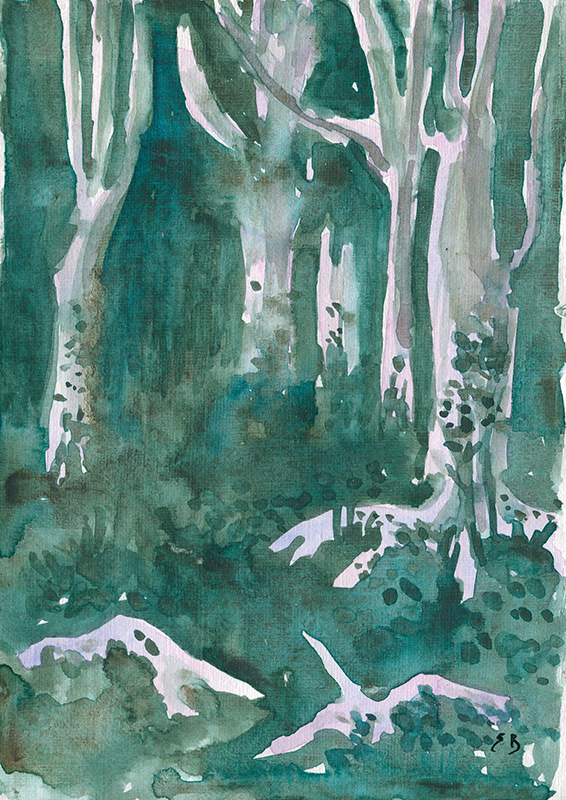 Some of the drawings above are work in progress, the beginning of new projects. Some of them will be on sale soon.